Year in Review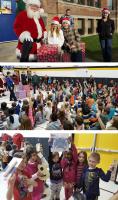 It's the time of year to look back, say thanks, and reflect on all the passion for music from the community and our students. With the launch of our Music Gives Movement, we have received so much support from all of you this year.
Through our new Music Gives Movement, the Conservatory donated a music lesson with each new registration that we saw throughout the year, so with 265 new registrations to date, we've donated $5300 in music lessons, and fundraised $1844.00 throughout the year to bring the total to $7144.00 for the year. Not bad for our first year but under our goal.
This week specifically we donated a dozen ukuleles, an acoustic guitar, and various percussion to each of 3 elementary schools in the area, and surprised 5 students benefiting from our music gives program with a drum set, portable digital piano, acoustic guitar & amplifier, and two karaoke machines.
Check out Niagara Conservatory of Music in the News over 2015!
We cannot thank everyone enough for making this year such a huge success. And we look forward to your renewed support and vigor in the New Year!

We will be closed from Thursday, December 24th through Friday January 1st, opening back up Saturday January 2nd for students regularly scheduled class times.

Happy Holidays from all of us here at the Conservatory!
Comments