Am I too old for music lessons?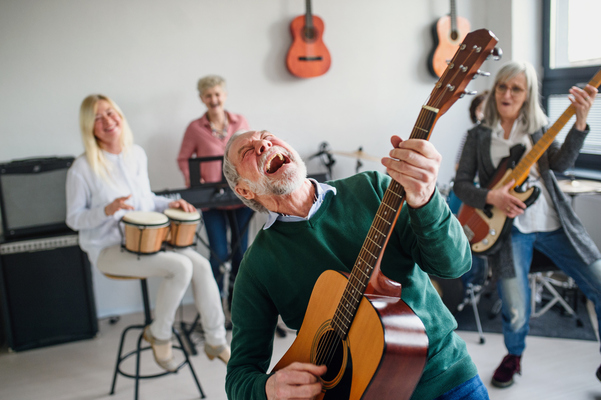 Is music just for young whippersnappers? It's a fair question.
In many ways, youth is the engine that propels musical innovation. In most societies, music bridges the gap between adolescence and adulthood by encouraging young people to be themselves, that is, to develop identities and values separate from those of their parents, to cope with new and difficult emotions, to forge deep connections with others, and feel like they belong.
If you think about it, most popular songs are an attempt to capture, or recapture, the ephemeral vitality of youth in song—whether through recollecting the sublime pain of a first love, nostalgically longing for the simplicity or exuberance of youth, reflecting upon feelings of insatiable desire, positively or ambivalently, at the edge of seventeen, or just coming to terms with being uncool and out of touch (especially when the young whippersnappers are appropriating the music of your generation en masse!)
When we think of adults' relation to music, though, we usually think of crotchety old misers out of touch with the innovations of newer generations—John Lithgow pontificating about "obscene rock and roll music" in Footloose or Gene Simmons tone-deaf prayers for the death of rap. This unconscious bias towards youth is even present in scholarly research which has tended to focus almost exclusively upon on the positive effects of playing and listening to music for children and youth.
A recent study by the University of California observes that the bulk of scholarly attention has historically been focused on "the cognitive effects of playing an instrument in youth." But despite this bias, a bulk of new research—including the study in question—has shown that it is never too late to start learning an instrument, and that doing so can actually do wonders for our adult brains!
In 2009, researchers at the University of Zurich found that people over the age of 65 saw increased activity in the parts of the brain that control hearing, memory, and fine motor skills after four or five months of playing an instrument. These findings are supported by recent neuroscientific research which suggests that playing music can not only strengthen our overall brain function at any age, but also allows us to bring that increased strength to other activities in our daily lives.
By bridging between the analytical and creative sides of our brain, researchers also suggest that playing music allows messages to move between the two sides more efficiently, increasing our problem-solving abilities in academic and social settings, as well as our ability to plan, strategize, and pay attention to detail. In a comparative analysis of people with similar levels of intelligence, researchers concluded that those who had received musical training showed enhancement in multiple areas of the brain compared to others who had not.
Music also enhances our capacity for memory, allowing us to create, store, and retrieve memories more quickly and efficiently. Relatedly, it can also reduce the risk of neurodegenerative diseases like dementia and other forms of cognitive impairment, reduce stress and anxiety, and even potentially stave off hearing loss!
Studies also show that adults are well-positioned to pick up instruments faster since they are usually more disciplined than children, more reasoned in their choices, and more able to manage their time effectively. They also tend to have more disposable income which gives them more freedom and flexibility with respect to equipment.
Let's look at some real-life examples. Did you know that the great Bill Withers spent nine years in the army and worked as an auto mechanic for Ford and IBM before learning the guitar? Unsurprisingly, his debut studio album, Just As I Am, released in 1971, featured the single "Grandma's Hands" which—among other things—celebrates the immense wisdom of the aged!
Chuck Berry—the "Father of Rock and Roll" himself—was forced to put his musical ambitions on hiatus when he was convicted of armed robbery in 1944. After working as a janitor and an auto worker in the early 1950s, he signed with Chess Records and produced his first hit, "Maybellene" in 1955 at the age of 29!
Wes Montgomery, one of the greatest jazz guitarists of all time, couldn't afford to get his hands on a six-string guitar until he was 20 years old. Johnny Ramone didn't start playing the guitar seriously until forming a band at age 24. But I think T-Model Ford takes the cake—he didn't pick up a guitar until he was well into his 70s!
The great composer, Ludwig van Beethoven, who would have been 251 this year, resisted the negative physical effects of aging by writing his greatest symphony at age 54. Bob Dylan and Leonard Cohen released some of their best music at the age of 80. The sooner you start playing, the sooner you can begin composing your masterpiece! Or just play for fun in the comfort of your living room—it's up to you!
There was something else as well… Ah, yes! The Niagara Conservatory team would like to wish you all a safe and healthy holiday season! We look forward to seeing you all again in the new year!
If we've piqued your interest, contact us to begin your musical journey ASAP! For a detailed list of the programs and services we offer, visit our website here!
Comments