Annual Christmas Concert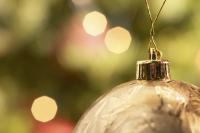 The Niagara Conservatory of Music holds various events throughout the year that showcase the students' hard work such as annual music competitions - Springfest and Summerest - as well as an annual Christmas concert. They serve as great motivation and offer an opportunity to demonstrate musical progress. This gives students a chance to apply what they have learned in a public performance environment. Competitions and performances also help to build the students' self-confidence and increase self-esteem.
Our annual Christmas concert allows students on all instruments the opportunity to get together in an ensemble setting and perform a variety of Christmas classics for friends and family. Groups consist of novice students new to their respective instruments, to advanced students who have been studying music for up to ten years. One of the highlights of the year, we have had over 250 students participate on an annual basis. Bethany Community Church over the past couple of years has been home to our annual concert and gives our students the opportunity to perform for crowds up to a thousand people. Our annual Christmas Concert has been scheduled for Sunday, November 30, 2014 at the Bethany Community Church on 1388 Third Steet, St. Catharines. Join us for a great evening of fellowship enjoying all the talent here at Niagara Conservatory of Music! Check out the Facebook event here for more info! We will see you there!
Comments