5 Benefits of Performing Live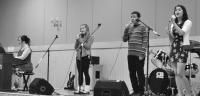 Performing live is a fun and important part of any child's music education, and the skills learned and experience gained in taking instrument lessons, having singing lessons or joining our Glee Club or Combo Program, will affect and improve many of your child's abilities in many areas of their life. Here are a list of 5 benefits.
Developing creativity. Imaginative play stimulates and challenges the brain, and allows kids to be innovative and broad-minded
Developing confidence. Strategies to help you get up in front of an audience and present an idea are extraordinarily valuable in many areas of adult life, personally and professionally. Learning how as a child is a wonderful asset to have.
Overcoming anxieties. The triumph of going out of stage, performing a rehearsed piece successfully, and receiving feedback afterwards is one of the profound and tangible reassurances of worth and achievement you will ever get. It gives kids a sense of control and power equivalent to winning scholastic prizes or sports championships, and will encourage aiming higher, overcoming more obstacles and achieving greater goals in future endeavors.
Learning memorizing skills. Working on your ability to absorb and retain information is something many successful entrepreneurs recommend for the success of professional adults, and is important and fun to develop through performing your music live.
Social interaction and cooperation. Performing arts classes promote working as a team while also encouraging and developing individual talent: the best possible combination.
At Niagara Conservatory of Music, we have many opportunities for your child to try performing live. Students will be encouraged to participate in examinations, festivals, concerts, band programs, theory classes, and other events. These opportunities aim to enhance all aspects of their musical education.
Comments