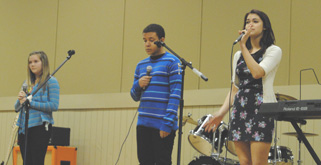 Combo Program:
Ever dreamed of playing in a band?
Of being a 'rock star'?
Of making music on stage in front of friends and family?
Our ten week Combo program helps music students make that dream become a reality. The Combo program involves the playing of popular songs, as a band, consisting of vocals, keyboards, synthesizers, guitar, bass, and drums. We put together students with the same level of experience, and provide music for them to play (with their input). We then match them with a teacher who helps them practice their set for a live performance at one of our festivals. Each band will be competing against other bands at the same level from schools across Southern Ontario.
The combo program consists of a series of group lessons where music students learn to play popular forms of music with other students on various types of instruments. Geared toward students who have been or are currently enrolled in music lessons, our unique Combo program gives the students valuable experience in a band setting! Select a name for your music group, have jam sessions under supervision of an instructor, and compete in Bandfest and/or Funfest against other bands across Southern Ontario. Always a fun and fulfilling event, this session-ending concert (Bandfest/Funfest) gives students an opportunity to put together everything they've learned in the ten weeks, individually and as a group, and to show off a little for friends and family. With our Combo program, each student has an opportunity to expand his or her musical potential while having fun playing with other students who share their interest in music.
Some of the music and performance skills that get covered throughout the 10 weeks include:
Develop rhythm and ear training
Teaching students to improvise properly (playing rhythmic and melodic passages to enhance/fill the song)
Experience playing along with other types of instruments as well as vocals
Enjoyment from playing popular music in a band setting
Experience performing in front of an audience
The course will commence the week of May 8, 2016. Our Combo groups will compete at FunFest 2016 to be held at the White Oaks Conference Resort (253 Taylor Rd, NOTL) on Sunday July 17, 2016, against bands from across southern Ontario. Our Combo groups will also have the opportunity to perform their songs at Polonia Park (765 York Road, NOTL) on Saturday August 13 for our Music Gives outdoor fundraising concert!
The student will receive ten one hour Combo lessons, for a fee of $195.00 payable in advance, or two payments of $105.00 each (May 8 and June 12) may be made. This payment includes the entry fee of $55.00 into the festival and entitles the student to participate in two more categories other than combo. All students participating in this program are required to continue with their regular lessons, as this program is a supplement, not a progression, of their development. If you have any questions regarding the program, please consult your teacher. Make sure to register early as, due to limited space and time, we are setting up the program on a first come, first serve basis.